The Competitive Analysis
helps you understand your client's industry and document features and technologies used by the competition and how they have approached various problems. This process can be quite extensive or fairly simply.

Your client's budget might not cover an in-depth survey of the competition but you should at least document features from three of the major competitor websites and compare them to the features that you intend to implement.

Create a form that includes the features that your client's website will include and add additional features as they are found on the competitor's websites. Also create a sheet for each competitor which contains a brief analysis of their site.

As part of the analysis your should include a written report with the results and conclusion. The results and conclusion can also be used for the Competitive Positioning.

example Competitive Analysis set-up
You need to create one chart that includes at least three competitors and create a separate sheet for each competitor which includes a brief analysis and rating system (one example of each shown below).


---
COMPANY NAME
COMPETITIVE ANALYSIS CHART
| feature | 1 | 2 | 3 |
| --- | --- | --- | --- |
| Company Name | | | |
| Company URL | | | |
| E-Commerce | * | | * |
| Search Function | * | * | * |
| Blog | | | * |
| Video | | * | |
| Press Releases | * | | |
| client list | | * | * |
| other features | | | |
| total features | # | # | # |
| rate site | # | # | # |
---
COMPANY NAME
COMPETITIVE ANALYSIS - COMPETITOR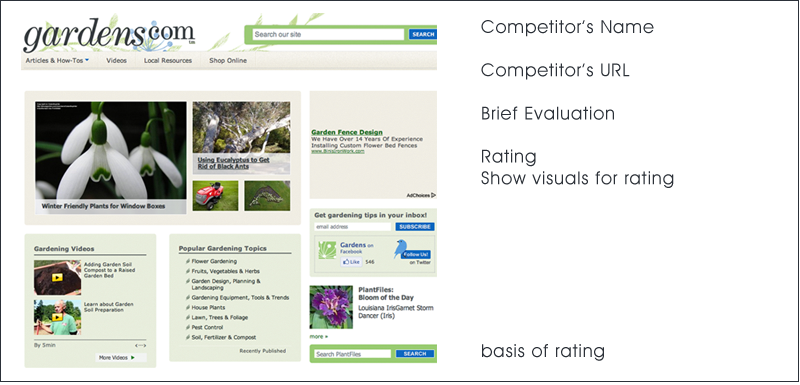 Create one analysis for each competitor


---